"Hexes and Ohs!" p01
on
July 18, 2017
at
9:38 am
And the 8th storyline begins! With a prelude to a secret origin.
Readers will recall Morgan's longtime friendship with Glamazon, and their shared interest in cute boy superheroes! Will history repeat itself? We'll soon find out!
The Hero Business is running early this week because I'll be at San Diego Comic-Con this week in the SMALL PRESS ARENA – Aisle O at table 05…. with Hero Business books, sketch cover comics, limited-edition prints, original art and more! If you're going to the show be sure to stop by!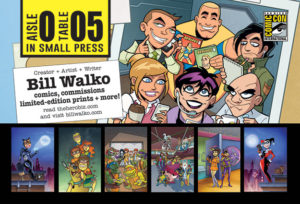 Stop by if you can, Heroites!