Hero Business Holiday Greetings
on
December 24, 2017
at
4:46 pm
Happy Holidays, Heroites!
As we wind down the year, I'd like to share all the fantastic entries from this year's Collective Of Heroes Secret Santa Swap! So many talented artists — check out all the entries AND their respective comic series!
Here's my entry for The Specialists: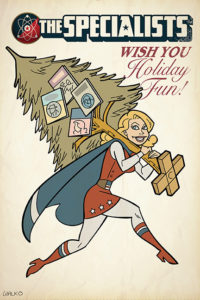 And lastly, a few announcements:
The Hero Business: Season Two is coming in 2018! That's right. I'm launching our second Kickstarter, which will include all 4 episodes of season two. "Bravado: The Movie" is our featured storyline, with a lot of fun extras and surprises.
Double Hero Business In January! With that, I'll be doubling up HB comics in January as out "Hexes and Ohs!" storyline reaches its exciting (ahem) climax.
Have a great holiday, everyone! Check back in 2018 for more hero hijinx and surprises!