Bonus: Malefactor by Hostettler
on
January 15, 2017
at
6:39 pm
Happy New Year, Heroites!
As I prepare some fresh material, I'll be running a few BONUS strips with some featured artists! First up: The Collective of Heroes Secret Santa Swap! Tyler Hostettler (The Underdogs) provided this cool Malefactor piece!
In return, here's my rendition of The Underdogs: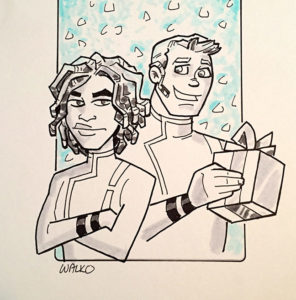 Be sure to check out Tyler's comic! Great stuff!
I'll also be busy this month manning my latest Kickstarter. It's a decidedly different type of non-comics project, but perfect for New Year's Resolutions: 52 Sweat Up: The Workout Deck! I've partnered with a Personal Trainer to deliver a deck of 52 unique workout cards – designed to shuffle up your workout with just a flip! Check it out here and be sure to spread the word to all your fitness-minded friends!