"Halloween At The Rocks" by Aidan Casserly
on
October 31, 2017
at
10:37 am
A couple of extra tricks and treats this week! It's Halloween, and that means its time for the annual "Secret Satan" swap at The Collective of Heroes!
I was thrilled at this week's hilarious entry by Aidan Casserly. It makes perfect sense that Malefactor and Scapula are pals. You can check out more of Aidan's great work right here! And here's a larger version of the comic.

In turn, I created a "Secret Satan" entry for Corey Kramer's fun Wonder Weenies comic. I gave the gang a bit of a Scooby Doo makeover!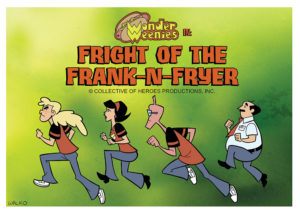 You can check out all the amazing entries in the series right here!
And next week: We'll be back with more original Hero Business comics!