Crisis At Comic-Con p18
on
October 3, 2016
at
1:39 pm
Wow, Brody REALLY didn't like that Electric Uberman Saga, did he?
Looks like Jonas raised a very valid point on "evil doppelganger" identification just moments ago.
I hope Dr. Malefactor is enjoying "the double thing!"
REMINDER: I'm gearing up for this year's spectacular New York Comic Con! I'll be in Artist Alley at table N6! excited to be back in the Alley this year, and I'll have the usual mix of comics, prints, original art and commissions at the show!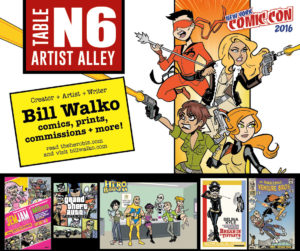 With the show in full gear, there's no new Hero Business next week, but I'll return with a bunch of commissions to share!
But those evil doubles sure do like black, don't they?