BONUS: Covering Episode 7
on
July 14, 2017
at
2:57 pm
We're back in business this summer, starting with this special BONUS!
This week, we're looking at the cover to the 7th Hero Business storyline, "Crisis At Comic-Con." With a concept of dual Brodys, what better cover to homage than the classic Flash #123 by Carmine Infantino?
Check out the original cover: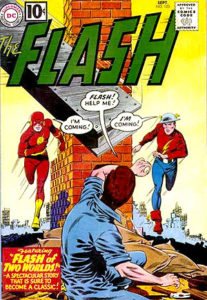 I hope one of the Brodys was able to save those precious Uberman comics! They look less than NM – the horrors!
Speaking of Comic Cons, I'll be at San Diego Comic-Con next week in the SMALL PRESS ARENA – Aisle O at table 05…. with Hero Business books, sketch cover comics, limited-edition prints, original art and more! If you're going to the show be sure to stop by!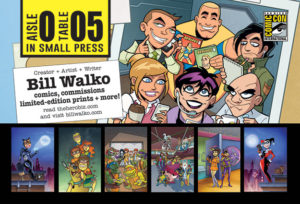 But before I go, I'll be posting the first page of the eight storyline. Here's a hint: It's titled "Hexes and Ohs!" — Any guesses on who will be featured in this one?