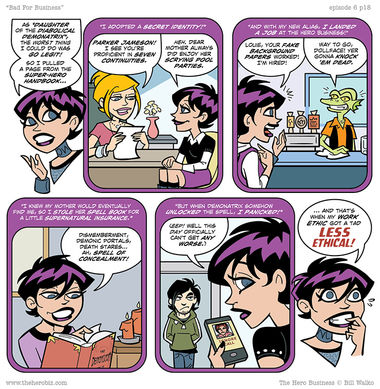 This week, Parker provides her own P.O.V. on some pivotal Hero Business events…. and it looks like we only got part of the story!
Panel 1, we see why Morgan took to Parker so quickly. Those pencils skirts paid for themselves, didn't they? There's a theory that people basically "hire themselves." Parker's a crafty one, she is.
Panel 2 puts new context onto this little exchange!
Panel 3 explains why Parker stole that spell book. And also shows why she had a soft spot for Simon's family-driven machinations.
And Panel 4 puts a whole new spin on this scene. Trust us, Parker, your day is about to get a LOT WORSE.
We warned you, Heroites…. lots of surprises and revelations in this storyline! And we're still not done– ; )